Mercedes F1 dominance won't last says Williams's Rob Smedley
Mercedes
Rob Smedley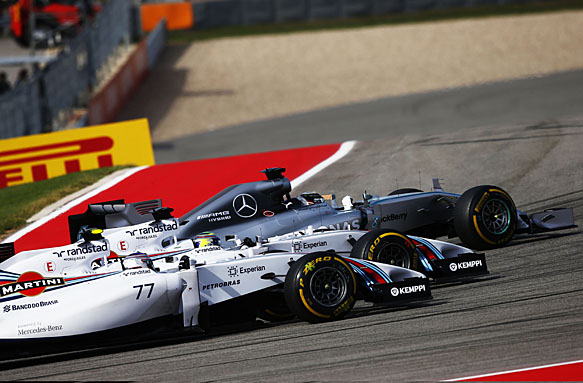 The Mercedes Formula 1 team will not be able to maintain its present level of dominance of the sport for a prolonged period, argues Williams performance chief Rob Smedley.

Mercedes took a drivers' and constructors' championship double in the first season of F1's V6 hybrid turbo engine formula.

Williams finished third in the constructors' table using customer Mercedes engines, and its drivers were often best of the rest behind Lewis Hamilton and Nico Rosberg in 2014.

Felipe Massa carried the fight to winner Hamilton during the final race of the season in Abu Dhabi, and Smedley reckons his team's pattern of improvement over the course of the year shows that rivals will catch the factory Mercedes squad.

"When one team is dominant and they have a big advantage, nothing lasts forever," Smedley said.

"If you look at the gap we had in Australia and the gap we had in the last race of the year, I think that if anything it has probably been getting a little bit better.

"People understand how to develop their car better, they understand how to build a better chassis, have better harmony between the power unit and the chassis, and that dominance is usually decreased.

"It is up to us, the other teams, whether we are Williams, whether we are Red Bull, whether we are Ferrari, to go out and to do a better job than everybody else."
autosport.com
Latest Update
A new version (1.30) of the software is available. (6 January, 2020)
Fixed the error "Unable to establish a connection. Check your internet connection.".
Download (Setup)
Download (Standalone)
Database Plus
Get lifetime access to 134,471 race analysis from 7,633 drivers.
| | |
| --- | --- |
| Elite | 291 |
| Master | 3,855 |
| Pro | 29,518 |
| Amateur | 82,806 |
| Rookie | 18,001 |
| Total | 134,471 |
Get Access Now