Daniel Ricciardo ready to lead Red Bull Formula 1 team in 2015
Red Bull
Daniel Ricciardo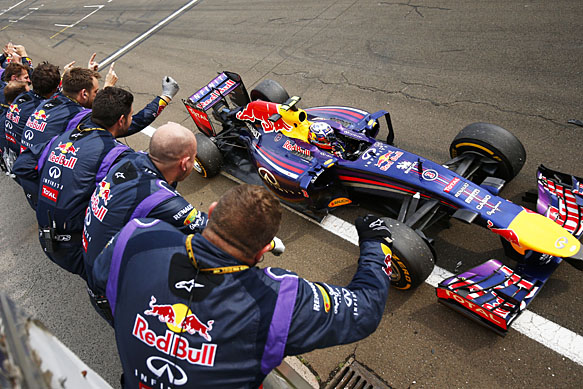 Daniel Ricciardo says he is ready to lead the Red Bull Formula 1 team next year following Sebastian Vettel's departure to Ferrari.

With Daniil Kvyat joining from Toro Rosso in 2015, the Australian will be the senior driver and has no doubts he can fill the void left by Vettel in only his second season with the squad.

"Yeah, I think so," he said when asked by AUTOSPORT whether he was ready for that responsibility.

"I am always going to continue to learn and grow with the team.

"I have done quite well this year in forming relationships and I expect that to continue.

"Obviously, they will rely a bit more on my feedback.

"I am sure it will take Daniil the winter to get running and get his shoes on the ground, so they'll rely on me a little bit more at the start of the season, but I'm sure I'm the right person to control that."

PRESSURE OF EXPECTATION
Ricciardo won three races and finished third in the 2014 drivers' championship, but says he will maintain the same approach to racing next year despite the extra pressure of being an established frontrunner.

"I shouldn't let that change anything I do behind the wheel or with the engineers," he said.

"It's been such a good year and the results have shown for it, so if I ever find myself trying to get too much out of it and impress Daniil Kvyat too much then I will step back and try and take this year's approach because it has worked.

"I'm not going to take Daniil lightly."

Red Bull boss Christian Horner has laid the blame for Red Bull's deficit to 2014 world champions Mercedes at engine supplier Renault's door.

Renault will focus on Red Bull as its works partner in 2015, and Ricciardo said he hoped winter improvements would allow him to challenge Mercedes drivers Lewis Hamilton and Nico Rosberg.

"I have a lot of confidence for next year [and] I will expect something better," said Ricciardo.

"Mercedes aren't going to stand still, so I'll cross my fingers that our improvement is bigger than theirs and we'll close the gap."
autosport.com
Latest Update
A new version (1.30) of the software is available. (6 January, 2020)
Fixed the error "Unable to establish a connection. Check your internet connection.".
Download (Setup)
Download (Standalone)
Database Plus
Get lifetime access to 134,473 race analysis from 7,633 drivers.
| | |
| --- | --- |
| Elite | 291 |
| Master | 3,855 |
| Pro | 29,519 |
| Amateur | 82,807 |
| Rookie | 18,001 |
| Total | 134,473 |
Get Access Now