Romain Grosjean says Renault 'messed up' during 2014 F1 season
Renault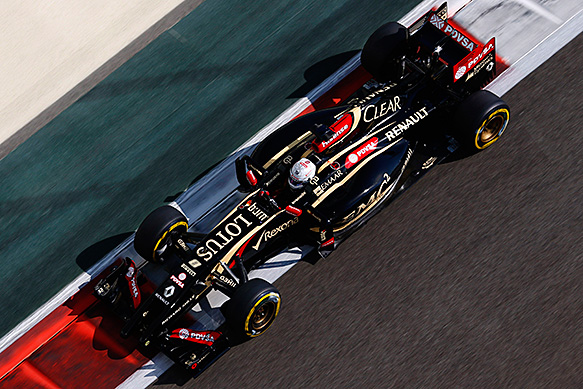 Romain Grosjean reckons engine supplier Renault "messed up" during the 2014 Formula 1 season, but he expects the French company to improve next year.

Renault had a difficult start to the year after a pre-season full of problems, and its power unit was rarely a match to the dominant Mercedes throughout the year.

Romain Grosjean says Renault 'messed up' during 2014 F1 season.

Grosjean, whose Lotus team used Renault power this year before switching to Mercedes for 2015, says the French manufacturer's issues made hard work of an already tough season.

"They will improve. They have always been able to make good engines. They messed up this year," said Grosjean.

"The engine was off at the start of the year, but they improved as much as they could.

"That made it hard work, but Mercedes has done a really amazing job this year, although they have room to improve and people will continue chasing them as they will still be ahead."

Grosjean, who extended his contract with Lotus earlier this year, admits avoiding the kind of troubled start to testing the team had this year will be key to having a better season.

"I think mainly in the first test we need to understand everything we understood by August this year," he said.

"We need to know what the car is doing and its characteristics and straightaway know where we can improve, unlike this year where we didn't know where we could improve in testing.

"Then we knew our cooling was bad and we spent a lot of time on it, and then the windtunnel was not showing the problems we were having...

"We know we can understand the car much quicker now and know which areas we can focus on straightaway."
autosport.com
Latest Update
A new version (1.30) of the software is available. (6 January, 2020)
Fixed the error "Unable to establish a connection. Check your internet connection.".
Download (Setup)
Download (Standalone)
Database Plus
Get lifetime access to 131,273 race analysis from 7,540 drivers.
| | |
| --- | --- |
| Elite | 281 |
| Master | 3,723 |
| Pro | 28,844 |
| Amateur | 80,777 |
| Rookie | 17,648 |
| Total | 131,273 |
Get Access Now