Williams F1 squad feels like a new team after changes, says Massa
Williams
Felipe Massa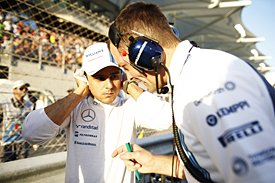 The Williams Formula 1 team still needs to sharpen its organisation because it has implemented so many changes it feels "like a new team" compared to Ferrari, reckons Felipe Massa.

High-profile new recruits including Pat Symonds and Rob Smedley headlined a major restructuring at Williams that helped it improve from a woeful ninth in the 2013 F1 constructors' standings to an extremely competitive third place this season.

Massa joined Williams this year after eight seasons racing for Ferrari.

Though Williams outperformed Ferrari in 2014, Massa reckons there are ares where his previous employer was still in better shape.

"In my opinion, the biggest difference, on a negative point, is that Williams' organisation is less complete," he told AUTOSPORT.

"In Ferrari it wasn't complete, but was perhaps more organised as a big team.

"Williams is like a new team with so many new people and they are doing many different things this year than they were before and it's also a change of mentality.

"This is something where Williams was still behind, not just Ferrari but some other big teams as well."

On the technical front, Massa has no doubt about Williams's capabilities, saying that the Grove squad's aerodynamics department was "definitely" stronger than Ferrari's.

"I think the good thing is that Williams is working so well in the windtunnel," he said.

"The car improved the most from the first to the last race during the season - their rate of improvement was probably more than any other team.

"I think that was a fantastic job from the windtunnel, on the chassis, the set-up, the technical side, so many areas.

"It's something that did not work for so many years at Ferrari, so that was positive for the team.

"We still need to make some of the organisation better and that's something that's not going to change from one day to the other."
autosport.com
Latest Update
A new version (1.30) of the software is available. (6 January, 2020)
Fixed the error "Unable to establish a connection. Check your internet connection.".
Download (Setup)
Download (Standalone)
Database Plus
Get lifetime access to 134,473 race analysis from 7,633 drivers.
| | |
| --- | --- |
| Elite | 291 |
| Master | 3,855 |
| Pro | 29,519 |
| Amateur | 82,807 |
| Rookie | 18,001 |
| Total | 134,473 |
Get Access Now